Busy times, people, very busy times. I've had to abandon the blog scene these past few weeks in order to survive the demands of my current to-do list. I'm hoping things will calm down in a few weeks and I can accelerate my post frequency from 'rarely' through 'seldom' and on to 'sporadically'...
Anyway, one of the main contributors to my packed schedule has been the focus I've had to give to completing work on the Malofiej 25 film I've been producing with Matt. This was a video we set out to make about the 2017 edition of Malofiej, the 25th anniversary, and to explore what makes this such a special event in general.
I always had the intention to launch the final work around the time of this year's Malofiej 26 event, which kicks off next week. However, with the wonderful support of Mr Malofiej himself, Javier Errea, not only is it launching next week I'm thrilled to say it is getting the premier treatment and will be shown for the first time at the awards dinner on Friday 16th March. It is now a race against the clock to complete our post-production work, get a video ready for this showing and then publish it to a wider audience, on this site, from Monday 19th. Watch this space...
In the meantime, I was happy to take part in an interview with the Malofiej team published on their website, offering a little more background to this video and some of my other thoughts in general about the subject of data visualisation and infographic design.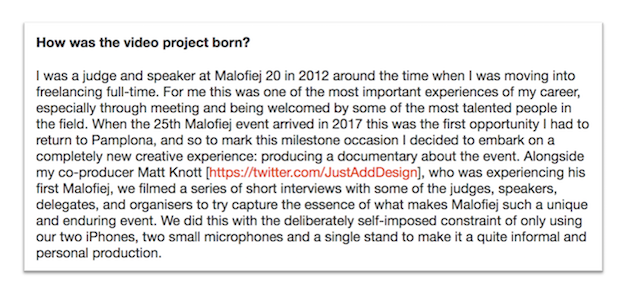 ---