Talk slides: Thinking about data visualisation thinking
Below you will find an embedded slideshare version of the slides used in last week's talk at the Data Visualization Group in the Bay Area Meetup at the University of San Francisco. As usual, the quality of the slide images hasn't quite been preserved in the upload but you'll get the idea at least.
I always say this and will say it again: presentation slides are just visual props for a talk so you won't be able to necessarily decipher the exact narrative that accompanied each subject. For meetup members (and maybe those not present too, possibly) the video of the talk should be released soon. I might also trot out the same talk at another future opportunity so do have a look through/watch but don't memorise it, just in case!
I have edited one or two of the slides for the purpose of sharing this deck publicly. For instance, this was my original slide 2, capturing the idea that I regretted that my talk title was a bit too Troy McClure-esque.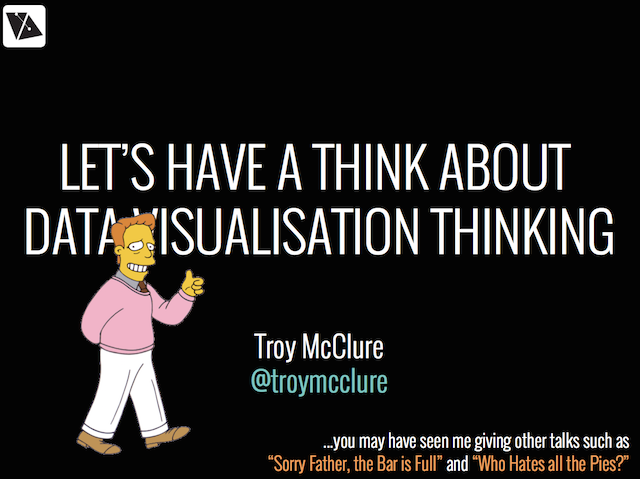 The thinking behind Visualising Data 2.0
A new dawn
That might seem like a rather a pompous section header – after all it is just a new site design – but for me it feels like a really significant milestone. The new version of visualisingdata.com was launched yesterday without too many bumps in the road, thankfully. I want to share a little bit more information about the thinking behind this new site's design and functionality. I appreciate all the feedback and comments that have been aired so far and hope this responds to some of the curiosities that were expressed.
Motivation for change
Visualisingdata.com was launched in February 2010 shortly after I graduated from a Masters research programme that had enthused me to want to continue to learn and discover much more about the data visualisation field. I decided that setting up a quick and lightweight blogging platform like WordPress and writing publicly about the subject was a great way to continue learning. You are forced to research, think and carefully establish your convictions.
At that time the field was experiencing a very evident increase in popularity and mainstream coverage. (I will always look back as being very fortunate to arrive in it when I did). Over time, as the field has continued to mature and spread, hopefully, the site's content has reflected a similar development providing value to new enthusiasts and seasoned pros along the way.
I was always mindful that the look, feel and functionality of the site was somewhat stuck in the vertical, scrolling wilderness of the particular WordPress theme I'd chosen. New stuff gets seen, older stuff gathers dust. It did an entirely worthy job for a long time, particularly prior to me a being a full-time freelance professional, but over the past couple of years I've felt an increasing friction between the style of the site and the things I'm teaching, preaching and practicing. As a shop-window to what I'm about it was no longer a good enough fit.
I don't have sufficient web programming literacy to do much more than tweaking so any significant development have been very hard to find space to move up the priority list. However, at the end of 2013 I decided the time was right to draw together a brains trust and start working towards an entirely fresh design. Not only a website reboot but something that extended to a whole new visual design and brand identity across all outputs.
Whats on this site
Here's an outline of the contents and features that you will now find on the site.
HOME PAGE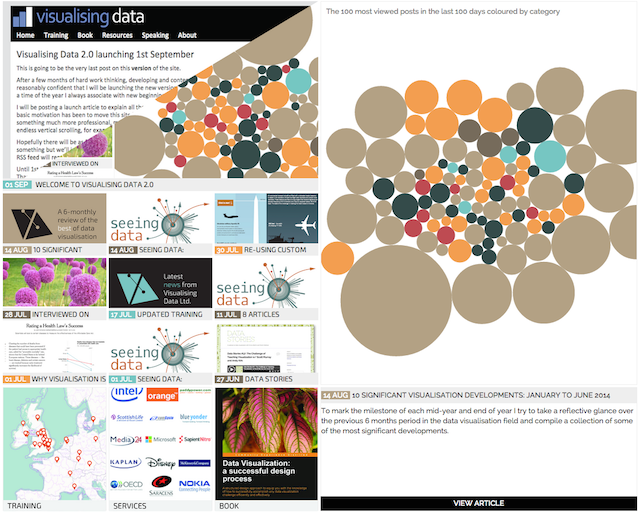 Creating a home page was one of the most important additions I wanted to introduce in this new version. I wanted to move away from the home page being the beginning of a stream of blog posts. This very final single image of what was essentially the previous home page view is illustrative of the old experience. I was also seeking a more dynamic front landing page that would encourage people to explore different parts of the site and offer a slightly different experience each day they come back to the site. I accept many people still tend to consume site content through RSS, google discoveries and links from social media but it is still nice to be able to offer a home page experience for those new arrivals and/or those who stick around for a browse.
So, on the home page you will find a convenient profile of the latest and most relevant content on the site.
Along the top you have a ticker strip with latest announcements (new blog posts, status updates on training events etc.) that appears on each page. There will typically be a max of 3/4 items looping on here. We have tried to minimise the visible animation effects so that it isn't too distracting.
On the left side of the page you find a curated arrangement of featured content items, blog posts and news. The main featured post is self-evident at the top, with other recent items beneath. These items may include just the most recent new postings or might be older content elevated to the front page if it has current relevance.
On the right you have an interactive device in the form of 100 packed bubbles to explore the most popular posts over the last 100 days. The bubbles are sized by the number of hits and coloured by the blog post categories. Click for a preview of the post and then click on 'VIEW ARTICLE' to read the full post. The idea of this is to provide visitors with perhaps a more serendipitous entry point into the site's content. At the very least it is nice to occasionally just batter the bubbles around with one of the big bruisers.
We are still exploring ways to ensure the layout and functionality is optimised for large screen vs. small screen, for desktop vs. mobile/tablet. More on this further down.
---
BLOG
The blog posts on this site date back to February 2010 and are really the heart and soul of this site. As I've already described, one of my motivations was to make the older content more immediately visible and accessible, getting away from that very linear, vertical journey of the previous WordPress template. Now you can move around nearly 5 years of content in just one or two clicks of the button. You also have the featured images to better inform your browsing choices and preview text to decide whether to continue to visit the full article. The blog page takes a couple of seconds to load up the content of the database – we're going to continue looking at ways to shave time of this loading. The content is presented in reverse chronology and is categorised by seven content groups.
Latest 50 – presents the most recent 50 published blog posts
Collections – the popular monthly 'best of' digests, 6-monthly reviews and other curated collections
Design – featuring profiles of the latest contemporary designs from the field
Articles – written pieces discussing key aspects of visualisation design thinking
External – pointers to other articles, interviews and recordings involving me but published elsewhere on the web
Field News – latest news from across the field
Announcements – general announcements about the site/services, including new training events, offers, requests etc.
There is also a menu to browse through the archives in month-by-month chronology.
---
BLOG POSTS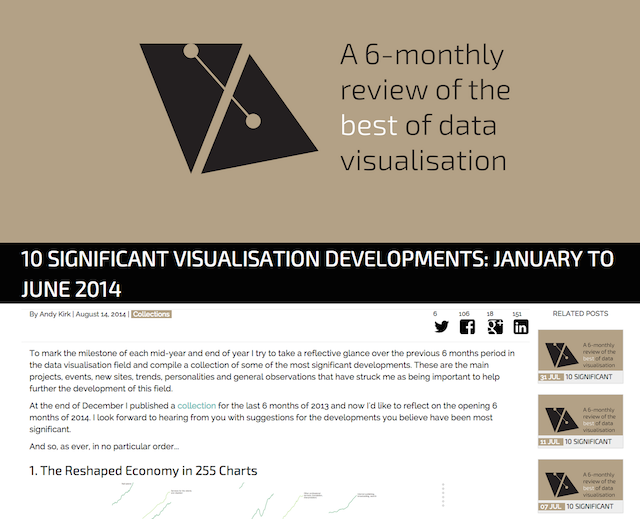 For the individual blog posts there is now a cleaner design with a more striking banner image for each blog (with the flanking colours auto generated from the dominant image colours to blend in) and a more integrated 'related posts' feature. The comments are tidied away until you wish to view them and you can browse backwards and forwards, as usual, to proximate posts. The social media buttons enable the sharing of the post links to the main 4 destinations. The tally counts for each post have hopefully been pulled through in most cases but some have not.
In my current blog post database there are 529 published posts. In the process of migrating to this new site design I have had to go through each post to reconfigure it slightly, set up excerpt text, update to the new categories and also assign a featured image. I have managed to get through over half of these but still have 200+ to complete so you will see some blank tiles in the blog page and in the blog posts themselves a 'Page Under Construction' banner image. I'll be working through these as quickly as possible to tidy up all the content.
---
RESOURCES
The collection of resources has been one of the most popular content items published on the site down the years. This page now provides a interactive navigable database of over 200 tools, applications and programmes that have an important role to play in data visualisation design. As new tools arrive on the scene, this collection will be kept entirely up-to-date to maintain the latest catalogue of options: I will shortly be finally getting round to the extra 70/80 or so outstanding items that need adding. The categories are a best fit grouping, though some tools inevitably do cut across several in scope. The preview text wording is often drawn from a tool's native site, rather than being my own. Also, I may not have actually used all the tools, I may not even personally think all of them a particularly great, but I will have seen evidence of others who have endorsed them or found them useful in different contexts to make them worthy of including in this collection. I would also like to take the opportunity thank Tableau Software who are the exclusive sponsors of this resources page.
---
REFERENCES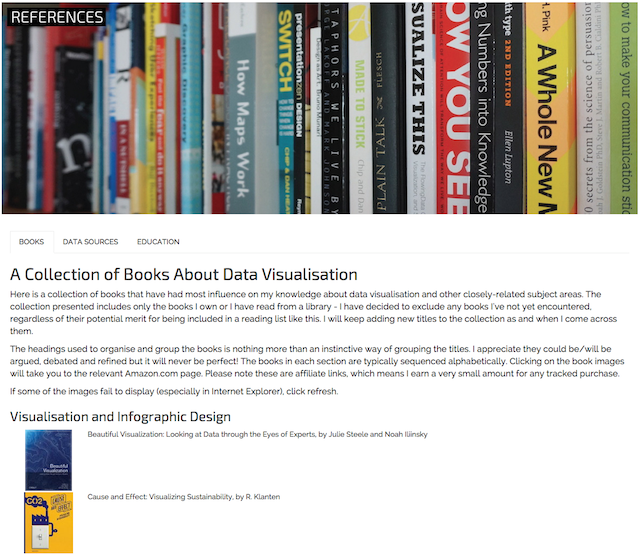 The references collection provides further useful resources for data visualisation enthusiasts. As above I will endeavour to add all the outstanding content that I've been bookmarking as soon as possible and keep it more up-to-date going forward. Some of the background widgets we have created in the WordPress admin dashboard will make this task much easier than before.
Books – A gallery of some of the most important and influential books on data visualisation and related subjects. The collection is limited to those I have personally read or own.
Data sources – A big collection of sites and services that provide access to data, across many different domains
Education – A compilation of the growing range of educational programmes and qualifications in data visualisation
---
TRAINING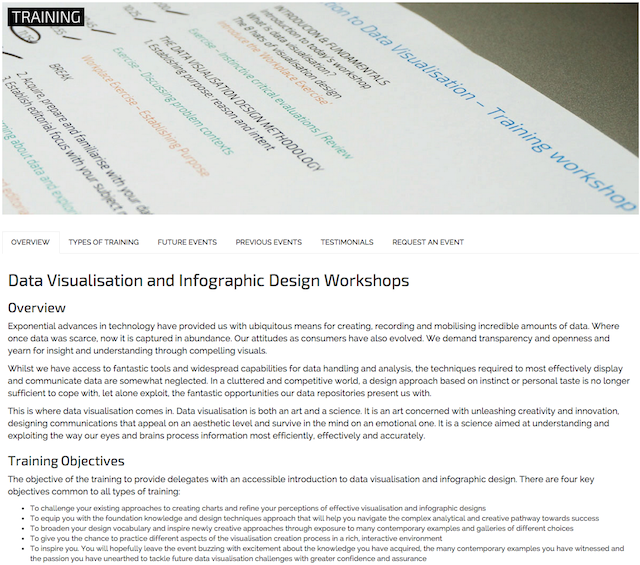 This page provides an overview of the data visualisation training workshops I run on behalf of Visualising Data Ltd. There is an overview of the training content, a profile of the types of training available, a list of the current training schedule, an interactive map to explore the location and type of previous events, a selection of participant testimonials (still needs another 100+ adding) and a form for interested parties to make a request for a future event. I am still exploring the potential use of a new training event registration tool (as an alternative to Eventbrite) that will be more integrated into WordPress.
---
SERVICES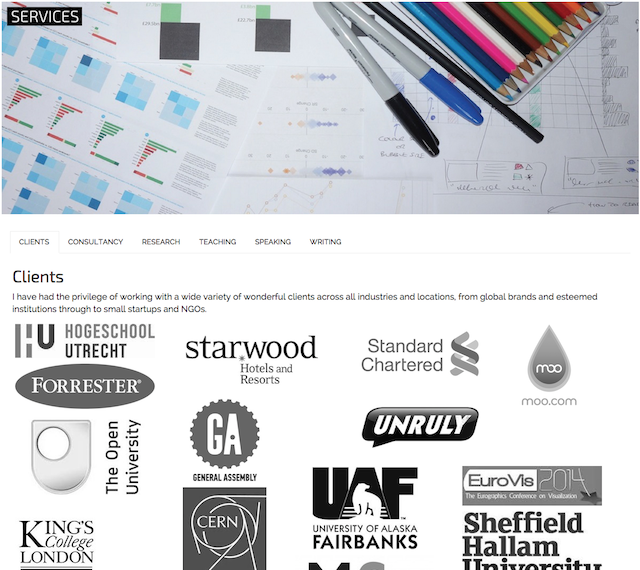 The services page presents the range of professional services I offer on behalf of Visualising Data Ltd covering consultancy, research, teaching, speaking and writing. There is also a gallery showing the logos of previous clients.
---
BOOK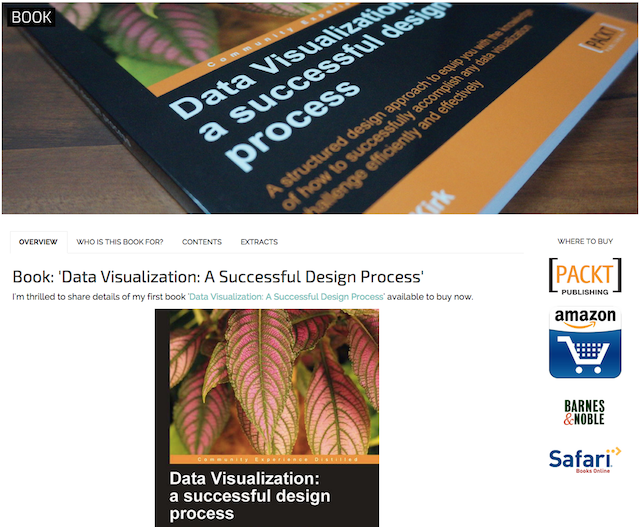 This page promotes details of my first book 'Data Visualization: A Successful Design Process' and, as the development progresses, will also eventually show information about my second title.
---
ABOUT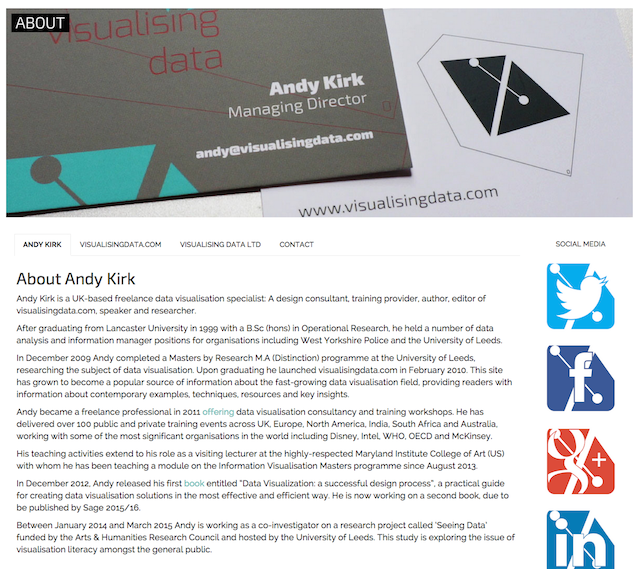 The about page profiles me, provides an outline of the workings and content of this site, some brief details about Visualising Data Ltd and a contact details page with links to my more prominent social media profiles.
---
VISUAL IDENTITY
The type used in the new site includes Exo 2, used mainly for titles and headings, and Raleway, mainly for the body text. The colour palette was developed by Matt (see below) and comprises the following: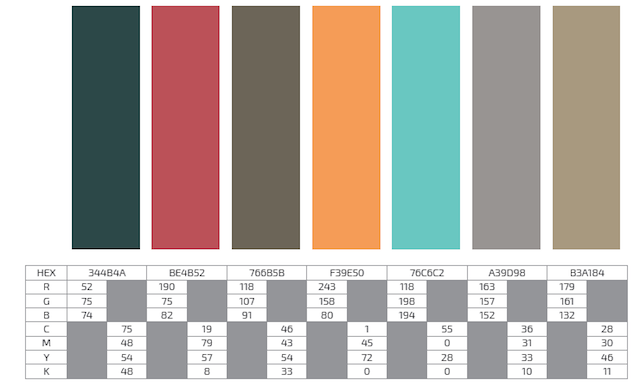 "Every screen according to its needs"
As with any worthwhile site development, we have sought a solution that works as well as possible across all platforms. There is a view that modern web site design should have a 'mobile first' objective. I recognise and agree that content is increasingly shared and accessed from smaller, mobile devices. However, my motivation for the redesign of this site has been focused foremost on an enhanced desktop experience, translatable where possible to tablet and then stripped back to be as accessible and light as possible for mobile. You will not see the same level of functionality available on a mobile browser compared to desktop because the screen real-estate and scope for interaction doesn't lend itself to achieve this. This tweet and comment from Al Shaw expresses my views perfectly: "Instead of 'mobile first' I like 'to every screen according to its needs'".
This does not mean that there is not more work to be done to maximise the effectiveness of the design across the different platforms, we have several things to fix and possible avenues to explore to make the site as responsive, accessible and well-performing as possible.
The brains trust
This photo was taken at the first project meeting between myself (camera operator), Andrew Witherley (left) and Matt Knott (right) in October 2013.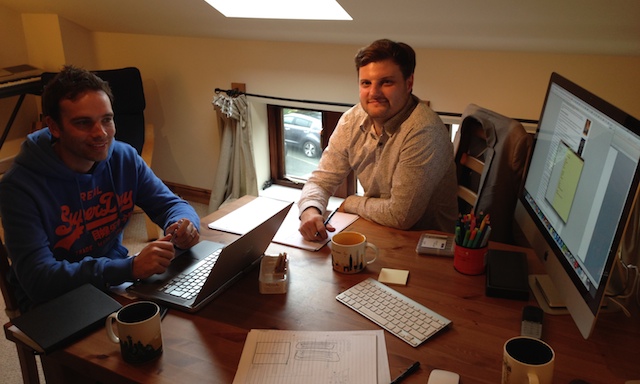 Matt led the way in facilitating the new design thinking: developing the new branding ideas around logos, typography and colour palette and helping to formulate the initial mockup sketches ideas of the site. Matt will be contributing to a future article about the thinking and design process specifically behind the new logo.
Andrew led on the development side, bringing his considerable technical talent and sharp eye to entirely translate my hopes for the site's structure and capability in to reality. Over the past few months especially he has gone above and beyond to help me get over the line with this new launch, particularly as my often limited spare capacity has led to a very stochastic pattern of progress.
Its been an immense pleasure working with both of these splendid chaps and I am hugely grateful for their contributions.
Re-using custom graphic archetypes
One of the (many) things that impresses me most about the quality of data visualisation and infographic output from the leading journalist organisations is the continued variety and innovation of their techniques. Rather than just being constrained by a limited visual vocabulary, each new work published tends to feature a solution uniquely suited to the data, the analysis and the subject matter involved. Given the pervasive time constraints involved, the work we see created, day in day out, is quite incredible.
Of course, on special occasions, there is a compelling reason to potentially re-cycle previously used graphic archetypes and there was an example of this last week that was both astute and highly impactive.
Firstly, to explain what I mean by re-using custom graphic archetypes. I'm not talking about the repeated use of an off-the-shelf chart on numerous separate occasions, like the bar or the line chart, I'm referring to more bespoke solutions that have been used for multiple projects.
The New York Times, for example, utilised this interactive and participative matrix to assess the public's reaction to the death of Osama Bin Laden back in May 2011.
They then, quite correctly, used the same underlying graphic approach to assess the reaction to Barrack Obama's stance on same-sex marriage. Why reinvent the wheel when you've got a perfectly applicable solution on your shelf?
In another example, The Guardian launched their innovative interactive timeline in March 2011 to outline the key milestones and sequence of events related to the Arab Spring.
In June of the same year it was re-imagined as a timeline to show the evolution of modern music…
…and again in October 2012 to show the events leading to the Eurozone crisis. An entirely reasonable, appropriate and – importantly – effective choice.
Whilst it is not purely the same archetype being re-used, last week's 'How high can a missile reach?' graphic published by the Washington Post (by Bonnie Berkowitz, Julie Tate and Richard Johnson) had a more profound effect. This was a vertical-scrollable graphic that aimed to show the scale of the height involved in the tragic shooting down of the Malaysia Flight MH17. I've recorded a brief video of it below.
As I mentioned on Twitter last week, there is something so haunting about the juxtaposition of the 'how high' graphic considering just three months earlier, the Post produced a 'how deep' graphic showing the 'The depth of the problem' (by Richard Johnson and Ben Chartoff). This was a very similar graphic device used to show the scale of the depth involved in the search for the Malaysia Flight MH370 black box.
Once again, the appropriateness of the same graphic approach being used is without question. The switch from height to depth, from upwards scrolling to downwards scrolling, to visually capture the essence of two so-closely-linked tragedies was very cleverly conceived and had a big impact on me.
Why visualisation is a pursuit of optimisation
I've had this short post sat in my draft folder for weeks now, awaiting the right context before publishing. I'm finally motivated to post it having seen a few discussions on Twitter last week whilst on holiday (when the hotel pool has wifi, what can you do but look now and again…).
The Twitter discussions involved comments along the lines of "good, but would have been nice if…". This is something I've uttered and written hundreds of times before: it is an inevitable reaction of somebody assessing what is in front of them. (Whisper it, sometimes it will also be a comment shared with the wider world to help others understand just how super astute you are!).
I didn't bookmark the conversations nor is it about pinpointing individuals, indeed I can't even remember who was involved. Furthermore, this isn't another criticism-soapbox piece but a simple reminder that data visualisation – and frankly any creative endeavour – is a pursuit of optimisation.
Firstly, it is important to remember that the "it would have been nice if…" observation (usually in relation to absence of a certain design feature) is more than likely a view also shared by the creator. Just because a piece of work doesn't include something that would have added value doesn't necessarily mean that it wasn't both considered and desired by the designer him/herself.
This short exchange between Elijah Meeks and Hannah Fairfield in relation to a New York Times graphic about the Affordable Care Act demonstrates the reality of the circumstances in which projects are created. I'm not picking on Elijah's query – the hover/click feature was something I remember also instinctively wanting – because it was an entirely valid point, rather I'm struck by Hannah's quick reply 'ran outta time for tooltips'.
Secondly – and mainly – we rarely, if ever, have perfect conditions for creating visualisation work. It is a game of compromise shaped by factors like resource limitations, time constraints, client interference, format restrictions, market pressures etc. It is sometimes about the skill of judging when 'good enough' has been achieved. Indeed, on some occasions it is not even about settling for 'second best' but realising there is a viable path represented by a least worst solution.
So, don't stop critiquing work and querying whether something had been considered. Don't stop commenting on what you think would be good to make something even better. But do remember that there is likely a good reason why certain things couldn't be achieved in the context of its creation.
Guest post: Using Mode to re-engineer data visualisations
Occasionally I invite folks to contribute guest posts to profile their work, ideas or knowledge. This guest post comes from Benn Stancil from a startup called Mode who have created a really interesting tool that allows you to reverse engineer analysis/visualisations in order to potentially take them in new directions. The product was opened to the public yesterday, so you can check it out and a few examples of the visualisations that people have built with it.
---
Can we learn from and build on each other's visualizations?
Like so many others, I've long been fascinated by learning from data–and as a result, been an avid consumer of data visualizations. The explosion of data in recent years has fueled a similar explosion of beautiful and insightful visualizations, created by everyone from industry leaders like the New York Times and Guardian to undiscovered brilliance hidden in obscure corners of the internet.
Even the best visualizations, however, rarely answer all of a viewer's questions. We often want to understand how the data was collected, how it would look if considered from a different angle, what story it would tell if combined with other data, or how the visualization was built. In other words, great visualizations not only answer questions, but inspire more.
Unfortunately, it's often difficult to document and share enough information to answer these follow-up questions. Creators carry the burden of sharing their data sources, their analysis that aggregated and combined data, their visualization code, and many other details. And piecing this information together after the fact is equally burdensome for consumers. The bit of knowledge someone new could add by remixing the analysis–or the bit they could learn by better understanding the original–often hits a dead-end, no matter how inspiring the visualization.
Introducing Mode
In part because of my own personal frustration, I recently cofounded a company, called Mode, aimed at providing solutions to these challenges. Mode's mission is to connect data and the people who analyze and visualize it. We've built a web-based tool that executes analysis, displays results, and renders fully custom visualizations all in one place. By saving, versioning, and packaging the entire workflow together, anyone who discovers the analysis can immediately click through the results to see the underlying data, the analysis, and how the visualization was created. Right now, we're focused on supporting SQL for analysis and web languages (HTML, CSS, and Javascript) for visualizations, though we're planning to adding R- and Python-based tools soon.
The above is a screenshot of a finished visualization. You can see the query, visualization code, and previous versions by clicking on the Query, Presentation, and Run History tabs above the graphic.
By organizing all of this information together in a simple package, people can immediately understand and add to visualizations without having to rebuild the work themselves. We've made this possible in one click–simply click clone on the screen above, and you'll be working with with same visualization published by the original author, exactly where they left off.
When a piece of work is cloned, the original author not only maintains credit, but also sees who cloned their work and what they're doing with it. This allows the community to push an analysis forward, without ever losing sight of the creator and without the creator losing sight of how their work is evolving.
Others can then working with the analysis and visualization in their own workspaces. They can even add their own data–Mode allows multiple creators' data to be combined in a single visualization. Because all of this work happens in the browser, Mode doesn't require setting up a development environment or finding a place to host the visualization.
Here is a screenshot of the presentation editor, where you can add custom visualization code and preview it.
Finally, we want people to be able to easily share their work. All visualizations in Mode can be shared via URL, or can be embedded anywhere on the internet, just like a YouTube video. The embedded visualizations, like the one below, can be fully interactive, and link back to all of the data and work.
We Want Your Advice
Our approach to making data visualizations more accessible is largely influenced by our own experiences as data analysts. Surely others, who have had different experiences and objectives, face other challenges or have other ideas for solutions.
We'd love to hear what you think of our direction and how we can tailor it to your needs. What problems have you had when collaborating on data visualizations? What are your biggest struggles, and how would you solve them? If you'd like to check out our approach, Mode is free to use and you can sign up here.
We're looking forward to see what great work people can build with Mode – and perhaps more importantly, what we can learn from each other. The world is producing fascinating data at an unprecedented pace, on subjects ranging from air quality in Chicago, to taxi traffic in Seattle, to the tattoo trends in the NBA. Great technologies for producing visualizations, like D3, Raphaël, and R, are constantly improving. And we have many giants in the data visualization community to look up to. At Mode, our hope is to help all of us stand on their shoulders.
The challenges of teaching data visualisation
People might seek teaching in data visualisation because they find themselves doing this…
So you've got to find an accessible way to communicate this…
Without overly reducing it to this…
You know that some people might be wanting to do this…/p>
But they really need to appreciate how and when to do this…/p>
Whilst you want to acknowledge the classics like this…/p>
You're also keen to give people a glimpse into this…/p>
You have to be respectful of this…/p>
But if you overly prescribe the rule book, everyone will end up like this…/p>
When really you want to encourage flexibility to do this…/p>
Ultimately, you want people to leave with the confidence, know-how and aspiration to create this…/p>
Want to know how I balance these demands? Experiencing it for yourself…
Talk slides from OpenVisConf 2014: The Design of Nothing
Below you will find an embedded slideshare version of the slides used in last week's talk at OpenVisConf 2014 held in Boston (well, officially Cambridge but Boston was only a bridge away). The quality of the slide images hasn't quite been preserved in the upload but you'll get the idea at least. I've also dabbled with embedding videos into the slideshare deck.
As ever, the presentation slides are just visual props for a talk so you won't be able to necessarily decipher the exact narrative that accompanied each subject. I was going to provide a detailed narrative similar to the wonderful way Jonathan Corum does. However, the video of the talk should be released soon and I have written a short article for the Harvard Business Review (publishing soon). I also might like to do the talk again at another opportunity…
What's happened to the trust?
I'm posting this as a separate discussion thread but in follow up to the previous post about the Gun Crimes chart and the issue of confusion vs. deception. Taking a helicopter/big picture view of this discussion, Tom MacInnes has raised an excellent observation:
So many people have reacted so badly to that chart, I'm actually quite shocked.
Even with the designer's own explanation (clearly showing the motive for the choice as being inspired by a design metaphor) there are still very angry and accusatory views out there, illustrated by this exchange:
What is it that causes such an evident lack of trust? Is it the subject matter of gun crimes that is inherently so emotive that anything that remotely creates confusion or leads to misreading is playing with fire? Is it the lack of trust about work emanating from the media? I would have thought that the provenance of this graphic coming from Reuters, with its international scope and (in my view) non-political leaning would be something that would remove some of the ire, but clearly not.
At the end of the day, clearly it is a good thing that there is a large (and growing?) audience out there capable of calling out graphics for potential shortcomings. Just maybe not necessarily with the quantity of pitch forks we've seen today and maybe directed less towards accusation of corrupt intent and more towards appreciation that a design choice maybe hasn't quite worked out.
I have to say I feel a great amount of sympathy Christine having to read the volume of flak her work has led to. She has responded to the criticism positively (below) and I truly hope this doesn't deter her or other designers from having the courage to occasionally pursue non-standard charting approaches.
The fine line between confusion and deception
Overnight I saw quite a few tweets spinning off an article 'How to Lie with Data Visualisation'. Initially, I mistakenly thought this had been written by Aatish Bhatia but it was actually from Ravi Parikh. It is a good article picking up on some of the classic subjects of our ire (Fox News, truncated y-axes).
I did, however, disagree with the inclusion of this graphic produced by Reuters.
I couldn't see the 'lie' demonstrated by this graphic that would force it to join those others on the naughty step. For me to read it I look at the more red equals the more deaths. Focusing on the shape of the colour rather than the passage of the line reveals the changes over time and the y-axis labels support the fact that a higher vertical position means a lower count of deaths. Once again, for me, it was clearly just an upturned area chart used to achieve the metaphor of a blood effect, and likely inspired by the below graphic produced by Simon Scarr (then of the South China Morning Post now of Reuters).
Simple, right? Well, not necessarily. The response on twitter through some good discussions has largely been supportive of the article's stance and less so on my seemingly contrarian view. (I feel like I've been here before…).
So here's a few further observations and thoughts.
(1) I think a key discussion here is the distinction between confusion and deception. I'm not going delve too much into the semantics of language definition but my sense of the difference is that 'deception' is generally something you knowingly intend, 'confusion' is a by-product effect of something not being clear. I'm not necessarily defending or celebrating this particular graphic, I'm really remarking that, unlike some of these other cases, there isn't anything in my experience reading the graphic that felt like deception.
This was further reinforced by seeing a reply from the designer, Christine Chan's, to a question about the graphic.
(2) Everyone's own reaction is entirely legitimate. Regardless of whether someone is telling you this is the best or the worst visualisation ever made, how you respond to it and how well you draw interpretations from it are entirely for you to resolve. I'm not defending me here, by the way, just saying we all have different responses based on all sorts of factors such as our experience, knowledge of a subject, interest in a subject, taste and graphical literacy
(3) The issue of graphical literacy is incredibly interesting and important. The ability to read and interpret chart types is something we are not trained to do. We 'get by' through experience, practice and exposure. Some people find different charts and graphics easier to read and interpret than others so there is rarely a common experience. As designers, our objective has to be to try help overcome any obstacles people might experience in the readability of our representations, either through our design choices or through explanatory annotations. I will be posting much more about one of my current projects working with a research team hosted at University of Leeds to explore this matter of graphical literacy amongst the general public.
(4) On a similar matter, I include the Iraq graphic in most of my training workshops (and it is admittedly in my top ten graphics ever). I am therefore especially familiar with and potentially more primed to 'get' a graphic that uses a similar device of the upturned dribbling blood effect without it having any misleading impact on me.
(5) Some great points were made about the effect of the area chart's colours creating a figure-ground illusion that means we can naturally be drawn towards the dominant shape of the 'white' area chart (and in the upward direction we normally might expect an area chart to be directed) more so than the big area of colour. I didn't experience this but clearly others have, particularly likely caused by the x-axis labels being at the bottom of the chart (thus almost framing the 'white' area chart). In contrast, several mentioned that the bar charts in the Iraq graphic almost 'punctured' this figure-ground illusion and had the x-axis labels across the top.
Anyway, here is a storify'd collection of responses. It in an interesting discussion to sustain I think.
Nice story about the impact of a visualisation
This morning I tweeted an interesting observation made on BBC News discussing the missing Malaysian airline "We are now not used to no information". It is entirely true. In this age of so much, any gaps become so extraordinary.
I was thinking about this in another way. For those of us with the awareness and capability, the thought of not visualising data – seeing data for new degrees understanding – would be kind of unthinkable. It is easy to forget that this is not the automatic thought for everyone.
I recently heard back from Alexis, a delegate who attended one of my recent training courses, sharing a nice story about how visualising some data had made a difference to her in a small but very real way.
I have type one diabetes and I need to keep my blood glucose levels within a certain range to stay healthy and avoid long-term complications. High blood glucose levels over a long period can lead to blindness and kidney failure, among other things. Low blood glucose can make me shaky and confused. Extreme highs and lows can lead to diabetic coma, so it's really important for me to monitor my blood glucose levels and keep them as close to my targets as possible.

I test my blood glucose level and inject insulin four times a day – before each meal and before I go to bed. I record the results either in a written diary or electronically using an app. I need to look for patterns to see if there are times of the day when I'm high or low, suggesting I need to take more or less insulin. I've always struggled with numbers and find it difficult to identify patterns. After doing the data visualisation training I decided to have a go at plotting the results in a graph.
Let me pull out that last line for dramatic emphasis: 'After doing the data visualisation training I decided to have a go at plotting the results in a graph.'
The graph showed me that Tuesday to Saturday my blood glucose goes up after breakfast to well above my target range of 4.5–8 mmol/l. This tells me I need to take more insulin before breakfast to bring it down. It generally comes down in the evening and overnight so I'm not planning to make any adjustments here at the moment. I play badminton on Saturdays and go to the gym on Sundays. Exercise often has a delayed effect on my blood glucose, bringing it down the following day. This is reflected in the unusual patterns on Sunday and Monday where it dips instead of rising after breakfast.
To overcome the annoying nature of Excel and time dimensions in charts, I've just thrown the data in a Tableau public worksheet to recreate the very same chart but make the x-axis handle four readings across the time of day rather than as four discrete values.
Here's Alexis' final comment:
I have to look at tables of figures for a long time before I can see patterns but this simple graph quickly gave me a much clearer picture of what's going on. I'm going to try and repeat it every week and aim to get the lines a bit straighter, and within the target range.
That's a really nice story and thank you to Alexis for sharing it. Hopefully others out there will no of people in a similar situation to Alexis who might benefit from a similar simple approach to visualising their health-related data and 'seeing it' in a new form.
(Let me be clear, by the way, I'm not claiming the training led to Alexis' epiphany! Instead it was her just thinking about the possibility of visualisation and being aware of what visualisation could do even in the most seemingly simple of situations. Thinking differently made this happen.)