A couple of weeks ago I launched an ambitious endeavour notionally hashtagged as the '#VisBookFlipBook' project. The idea was to mark the first anniversary of my book's publication with an attempt to crowdsource photographs of every double-page spread of my book from the owners of my book. I would then piece the parts together to form an animated/gif 'flipbook' of every page of the book.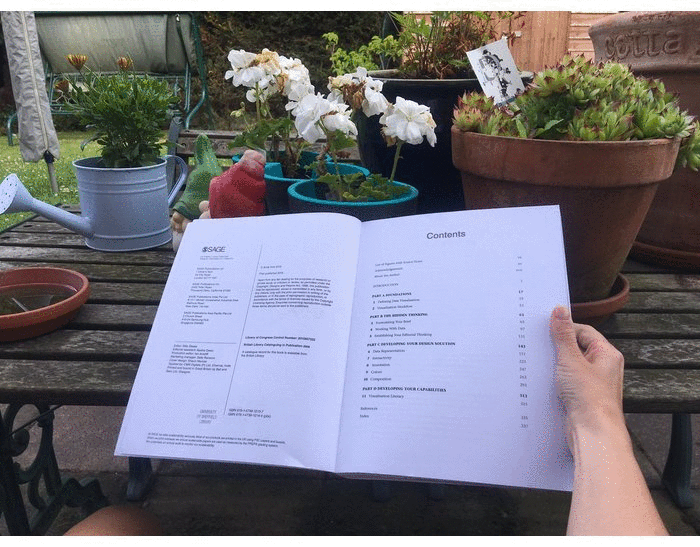 I've had a ripple of interest, with some kind people already taking and submitting their photographs (a selection in the gif above), some explaining they will submit later in the summer and others reserving their preferred page spreads in this Google Sheet anticipation of opportunities to take the shots in the near future.
However, with 183 two-page spread combinations to source, I am so far only 15% of the way towards the completed total so I need to redouble my efforts to spread the word and also relax a couple of constraints.
The limit of one submission per person has now been scrapped and I am now happy to include two submissions per person. I also should reiterate that my initial desire for landscape-only submissions has been changed to include portrait as well (to help folks trying to juggle a camera and a book!). There is no deadline for this, I am going to leave it open for as long as it remains incomplete!
Another key thing to stress is the scenes do not need to be exotic - don't let this prevent you from submitting! - if you do have the chance to do it in unique, varied and unusual locations, super, but I'm primarily concerned with just receiving your photos regardless of whether it is taken from space or just in your messy garage.
---
A quick reminder of the steps:
1. Check you have access to a copy of my book. If you don't, it is hugely recommended by the author that you consider owning it (his words, not mine).
2. Visit this Google Sheet and block out your two-page spread of choice.
3. Take a photograph of a scene incorporating into the view my book opened up at this double-page spread, aiming for a layout where the book occupies around a half and two-thirds of the vertical space, regardless of landscape/portrait layout.
4. To send me your photograph you can use social media, attach to an email or upload your file and share the link with me. You can add the link into the Google Sheet yourself if you wish but I can do that. I'd also welcome brief details of the photo's location.
---
Thank you so much to those who have already taken part and those of you who will indulge this entirely superfluous exercise!
---