FiveThirtyEight blog begins on NYT
A new political blog/sub-domain of the New York Times website officially launched this week and you should keep your eyes on its progress – the FiveThirtyEight blog. This blog will bring together the visualisation prowess of the NYT with the political knowledge and statistical modelling capabilities of Nate Silver and his team of collaborators.
During the presidential election of 2008 Nate used a unique methodology taken from his experiences in analysing baseball to introduce a new approach for calculating polling data based on demographic data and taking into consideration factors around historical trends, sample sizes and how recent sample polls were taken.
Using computer modeling to generate huge numbers of simulated elections (Monte Carlo method?) to help predict the outcomes of the various stages of the election, he rapidly developed a reputation for incredible accuracy, eventually correctly forecasting the winners of 49 of the 50 states and every one of the 35 Senate races.
The fivethirtyeight blog has existed to discuss, share and analyse the statistical information its models generate before and throughout the 2008 election and also since then, covering many different topics and applications of forecasted statistical information.
You should expect some fantastic visualisation output as a result of this partnership, as Silver acknowledges:
"The New York Times, which is not only hosting the blog but is enlisting its team of interactive journalists and graphics experts to deepen and enhance it… Fundamentally, I've always seen FiveThirtyEight's mission as being parallel to journalism: objectivity and accuracy have been core values of the blog, but it has also prized clarity of thought and of written and visual communication."
Here is an immediate example:

Creative Review section on data visualisation
The September 2010 issue of Creative Review is out now and includes two sections dedicated to data visualisation.
The first is an article by Nicholas Felton (both the designer and subject of the popular Felton Report series) which follows up the July release of the Little Book of Shocking Global Facts and the reaction to this that dominated the blogosphere.
Nicholas accuses the designers behind this book of making significant errors in its presentation of information, in both the visual treatment of the visualisation designs and, importantly, the accuracy of some of the data representations. I'm glad they gave the opportunity for Jon Abbott of Barnbrook Design to respond to the criticisms – these situations are always more constructive when there is two-sided dialogue.
I am pleased to see that my own post on this subject, 'Worst graph design ever?', has been mentioned in this piece (the rewards of inflammatory post titles!) – I guess I"ll let the copy editor off for the unfortunate auto-hyphenation of the site's URL!
The second piece in this issue comes from Rebecca Pohancenik who reveals that "data visualisation, far from being a modern practice, has its roots in the investigations of 17th century scientists".
Rebecca presents an interesting timeline of some of the earliest concepts of information design with examples from the likes of Edmond Halley, Joseph Priestley, Christiaan Huygens and Benjamin Franklin to name but a few. It is really refreshing to see several new examples presented here (well, new to me at least), rather than the now-typical exhibits from Florence Nightingale, William Playfair and Charles Joseph Minard.
It is of course great to see data visualisation receiving attention from such a prominent magazine as Creative Review. Its just a shame that this opportunity largely comes about in response to the Barnbrook project and therefore has to be occupied with offering a somewhat negative critique and reaction to this work, rather than being a more positive discussion and showcase of the subject's merits and best practices. Hopefully, there will be further opportunities in due course to fulfil the latter.
Visualisation Reflections: #2 Independent content curator
This is a follow-up post to my second article in the Visualisation Insights series which I published early this week. The purpose of this companion series is to optimise the learning opportunities from each insightsarticle, reflecting on the ideas, issues and observations to emerge.
Visualisation Reflections #2
Independent Content Curator | Tiago Veloso
Why did I choose this subject
As I mentioned in the main article, I first came across Tiago's site in June when I was looking around the web for examples of world cup visualisations and found that he had compiled his own great collection for InspiredMag. I subscribed to his Visual Loop RSS Feed and from that point on I have been feasting on a fullsome diet of infographic and visualisation examples from around the world.
My interest in inviting Tiago to take part in this article was based on my great appreciation of the role he is playing in sourcing, collecting and sharing these examples from all corners of the world. In the space of a few months, he has found and published nearly 4,500 graphics which gives him a unique perspective on the visualisation and infographic field. I also feel a sense of connection in the progress of Visual Loop given that I launched Visualising Data around the same time.
Impressions prior to the interview
I see the visualisation field, as with any subject or discipline, as an organic system comprised of many different members, roles, energies and influencing forces. For this system to operate most effectively it requires a broad balance of different perspectives and functions which help to simultaneously navigate and fuel the subject's evolution.
As a Content Curator, Tiago takes on a particularly important role by gathering and sharing with the rest of us the work that is taking place within and around this field. In many ways he takes on the capacity of a connector – a role identified and described in Malcolm Gladwell's Tipping Point:
Connectors are the people who link us up with the world, … the kinds of people who know everyone and possess special gifts for bringing the world together. They are "a handful of people with a truly extraordinary knack, … for making friends and acquaintances. Gladwell attributes the social success of connectors to "their ability to span many different worlds as a function of something intrinsic to their personality, some combination of curiosity, self-confidence, sociability, and energy."
He's not there to filter, critique, judge or progress the field from a theoretical perspective – rather, his diligent discovery work supports the rest of us in the field. Completing the Tipping Point list of roles, some of us take on the alternative duties of mavens ("trusted experts and information specialists in a particular field, who accumulate and pass on knowledge") and salesmen ("the select group of people with the skills to persuade us when we are unconvinced of what we are hearing") to keep the subject moving forward.
Impressions after the interview?
The most striking aspect of Tiago's interview is the refreshingly neutral standpoint which gives him a particularly non-cynical, positive and energetic perspective. His career experiences have heightened his awareness of the influence effective communication of information can have and it is great to see somebody arrive in this field from such a background. His opinions are therefore very interesting and valuable particularly as he is not affected by the Curse of Knowledge many of us can be influenced by.
As defined on the Visual Loop site, the stream of visual graphics supplied are not meant to be a showcase of best practice, they contain both good and bad demonstrations of the craft. As I said in my introduction to the main article exposure to bad practice is as helpful as seeing good practice, it helps to enhance your understanding of ideal design principles. I have certainly taken a great deal of value from this provision of the good and the bad.
Acknowledgement
Once again many thanks to Tiago for breaking off from his relentless Visual Loop stream and participating in this article, which, like the Michael Deal interview, has been a very popular post – hello to the many new readers from South America particularly! I know Tiago has great ambitions with Visual Loop and I wish him all the best in his pursuit.
Keep your eye out for future insights articles, with many interesting interviews and interviewees lined up…
Visualisation Insights: #2 Independent content curator
This is the second part of my recently launched Visualisation Insights series. The purpose of this series is to provide readers with unique insights into the field of visualisation from the different perspectives of those in the roles of designer, practitioner, academic, blogger, journalist and all sorts of other visual thinkers. My aim is to bring together these interviews to create a greater understanding and appreciation of the challenges, approaches and solutions that exist in the worlds of these people – the visualisation field's 'cast and crew'.
Visualisation Insights #2
Independent Content Curator | Tiago Veloso
Tiago Veloso is an Independent Content Curator and Marketing/Branding Consultant based in Brazil. He runs the very popular Visual Loop website which is described as:
A non-stop stream of links to infographics, maps, charts and many other worldwide visualization designs that make the process of understanding our life a bit easier… or not. It's not a showcase of good or bad design. It's just… a Visual Loop.
I came across Tiago's site in June when I was researching my series of posts around the World Cup visualisations and found it to be a fantastic resource for discovering worldwide visualisations and infographics, good and bad, all of which helps to sharpen our identification and appreciation of best practice design principles and expose ourself to latest trends in topic or approach. As a prolific collector and sharer of all this content I thought it would be interesting to discover more about Tiago's experiences around the visualisation and infographic field.
Tiago, can you give me a brief outline of your training/career background leading up to the launch of Visual Loop?
I have a degree in Hotel Management and I worked for more than 15 years in the travel and tourism industry, from restaurants and hotels in Europe, to catering for oil platforms in Angola, and ecotourism in Brazil. A big part of those experiences involved a permanent contact with people from all over the world, providing me, among other things, with an understanding of how important the use of data visualization can be as way of establishing a bridge of communication in situations where, sometimes, traditional speech wasn't enough.
You describe yourself as a content curator which is a fascinating job description – can you give a bit more detail and insight into this world?
We're literally bombarded with an unthinkable amount of information. Of course, a lot of developments have been made in order to make the job of dealing with that easier, but even so, it's pretty hard to keep a clean stream of what's really important. On the other hand, with the increasing importance of social media as a marketing and branding tool, the quality of the content a company creates and shares with their followers/friends/readers is, probably, the biggest differential one can create to add value to their services and products – and that takes time and investment, especially in people.
As a content curator, I offer companies a guarantee of minimum prime content that assures that their social media presence is constantly adding value, a part of all the marketing and promotional actions they can make in those channels.
When or what was your "aha!" moment in terms of discovering visualisation/infographics?
Social media, is, above all, a consequence of the evolution of mankind, and in my work in the tourism and travel industry I had to quickly adapt to major cultural differences. Basically, I believe that the true value of social media is the possibility of extending beyond physical boundaries what I did during all those years: to be willing to help, engage, and serve people from all parts of the world.
So, during that process of establishing myself as a content curator, I needed a way to easily communicate with all those different "worlds", and, like I said, data visualization always seemed to be a great way of achieving that – both to "tell" and "hear" and learn.
I've been collecting infographics for quite sometime, but the amount of information visualizations that started to pop-up on the Internet, for the past 2 years, made the task of organizing them much harder, even with bookmarking tools. That was when I decided to start my own online collection, hoping that it could also be of some value to others.
For those unfamiliar with your site, can you describe what it is and what your overall aims are? What motivated you to start the site?
Visual Loop is a non-stop stream of links for data-visualizations, such as infographs, maps, charts, diagrams and others. And when I say non-stop, it's literally 24/7 – within 7 months, I've posted over 4300, which is indeed a big number.
Another peculiarity is that it's not about the design, but mostly about the information, and it covers a wide variety of topics – something that is also important for my work, because I have clients from all segments and industries.
I don't have a "designer" background, like most of the blogs on this topic, and I don't do "reviews". And it's great to see that that's one of the most appreciated things by the designers that follow Visual Loop. Most of them see it as a way of quickly getting access to an amount of infographics about a specific topic, without preconceptions, and be inspired both by the "good" as by the "bad" designs.
Without giving away any trade secrets can you describe your approach to managing this site and its incredible stream of content? What sites/services do you use to fully immerse yourself in the subject? How do you find, identify and collect the content you publish? Can you explain your selection policy for including certain graphics? When do you sleep?
As a good friend of mine put it once, I'm the CEO of Visual Loop. As in Chief Everything Officer. It's all done by me, and the only way I can keep the stream is because I invested 6 months on tracking down sources from all over the world. Of course it helps a lot not being so concerned about the "quality", or a specific topic, and the fact that I post designs from different places, including non-English speaking countries.
Tumblr, which I chose as a platform because of its simplicity, allows me to queue the posts on a very intuitive way, making it possible to keep the stream going even when I'm working – or sleeping 😉
As for the sources, besides the main blogs, Flickr, and some Ning networks are among my favorite places to find new stuff.
From your own perspective, how would you describe your own visualisation/design style or preferences? eg. Who would you describe as being the most influential authors/designers that most closely match your 'taste'? Do you have a particular favourite graphic?
I try not to be too much personal about the designs I post, like I said. But I'm particularly fond of editorial infographics, the ones we see in newspapers and magazines, and interactive ones. It's pretty much impossible for me to select one favorite, after more than 4000 posts, but I could mention the ones I've included on some of the posts I wrote for Inspired Magazine: Infographics from Brazil and some of the Interactive resources mentioned in this post.
What would you describe as being the key milestones of progress since you began the site? You must have some fairly amazing stats/figures associated with your work to date?
Things have been happening very quickly, beyond my wildest expectations. The 4000 posts mark was something that made say "Wow!! It's moving fast!". But the biggest achievement so far was to be included in Alltop's list for infographics, among some of the big names. It really took me by surprise.
In terms of website stats, the number I'm most proud of is the 3.5% Bounce Rate – when people discover Visual Loop, they usually spend quite some time there.
But even so, the numbers never were a priority – I keep Visual Loop ad-free, so as long as people visit it and recommend it as a source, the "mission accomplished" feeling is there.
Some readers will have seen that you have produced a number of articles for InspiredMag and I see you've also recently started contributing to Randall Hand's VizWorld site? How did these opportunities come about?
Those were also two important milestones, of course.
With Inspired Magazine, it all started with a comment I left on a post about infographic blogs, in which I mentioned Visual Loop as an additional resource. Immediately they included it on that same post, and I received an invitation from Catalin Zorzini to write a guest post. And from that point on, I've been making monthly contributions.
On the other hand, with Randall's VizWorld it was a bit different. I started to notice that some of their posts were mentioning Visual Loop as a source, and we started exchanging emails about a possible contribution. We decided to try out a Daily round-up of 5 or 6 infographics, named it Daily Viz from Visual Loop, and it's been working out like that since July.
What plans and ambitions do you have for the future with Visual Loop? What would you expect visitors will see in 12 months time, for example?
A couple of months ago, I started asking for advice, critics and suggestions from my readers, and a lot of great ideas came up. I'm still in that process of fully understanding their expectations, and for now, my only guarantee is that the stream of infographics will continue. Keeping the stream going and making the search process easier are the top priorities.
From my own experiences researching my world cup visualisation posts, it struck me how much amazing design work is emerging from Brazil and South America in general, how do you see the state of the visualisation/infographics field? How would you compare it with the rest of the world, do you notice any clear, regional differences in techniques or design approach?
No doubt that there are big differences, both in design style and in the use of data-visualization, as far as an "amateur" can appreciate. Even someone who's not a designer can see that the cultural and social environment plays a tremendous role on the way information is designed and displayed. I think South American designers, especially in Brazil, have a much more "freestyle" approach, innovating with a mix of vibrant colors and detailed illustrations, without polluting or hiding the information.
And I also believe that it has a lot to do with the editorial vision of the magazines and newspapers. Here, it just feels like the text and the infographic are one, as opposed to a "little picture to illustrate the news".
But, like I said, it's just a personal point of view, from someone who doesn't have a "professional" background on the subject.
What are the things that excite you/make you positive about the way the visualisation is advancing? Are there any aspects that particularly frustrate or disappoint you?
Personally, the most impressive fact is the rise of the use of infographics throughout the Internet. I think we're seeing the replacement of the "Top 10 Lists" by infographics as the main link-bait strategy, and that opens a whole new world of possibilities for the design community. The rise of mobile, broadband expansion, cheaper (and better) devices, all will play their role in making visual thinking more and more mainstream.
I'm especially excited about the impact it can have in countries with a higher educational gap, where the habits of reading are not so traditional like they are in Europe or North-America. With the proper use of data-visualization, combined with all the new technologies, the educational process could be greatly improved, and that is something the "old school, old media" governments still have to pay more attention to – and take advantage.
Finally, a chance for you to recommend or publicise others – apart from the more obvious and popular visualisation-related sites, which other sites/ designer's would you recommend for readers to take a look at? Are there any designers, particularly around South America, who you would identify as producing particularly innovative work right now?
My first post on Inspired Magazine was precisely about infographic design in Brazil. I selected 10 of my favorite designers, and I'd recommend them all, because, besides being extremely talented, each and every one of them has a particular style – and they all are big supporters of Visual Loop.
So, I'll mention:
… as part of that selection, and also from Brazil, Renata Steffen, who I only met a few weeks after that post.
Outside Brazil, I must recommend Robin Richards and Tiffany Farrant, both from Bristol (UK), who have produced some of the most amazing graphs I've seen, and are also big supporters of the whole Visual Loop concept.
*************************
Many thanks to Tiago for his interesting and detailed responses – in outstanding English – and for his time in participating in this post, I wish him all the success and quality sleep that hopefully awaits him in the future. There are many ways to follow Tiago's updates, you can find information here or simply follow him on Twitter @TSSVeloso.
Newsweek's 'Best Countries' interactive
Just come across a very slick interactive published on Newsweek, designed by Thomas Klepl and Adam Clarkson. The graphic presents information around Newsweek's study of health, education, economy and politics to rank the world's top nations.
The interactive allows you to explore all the data for each country, based around a dynamic parallel coordinates type graphic in the middle. You can select two countries to compare from the list or from the graphic and then view the data in a comparison chart to the right. I like the effects when you hover over each country and it subtly highlights that country's parallel data. I also like the option to filter the country lists by Country, Income or Population Groupings which emphasises the relevant countries in the graph.
The only minor complaint from a usability perspective is the auto-navigation through the list of countries depending on the position of your mouse pointer – its a bit hard to tame, I'd prefer to just click on the up or down arrows to move through the countries. That aside the rest of the interface works very smoothly and very intuitively.
Congratulations to readers from Finland which emerged as the top country, tough luck to those of you in Burkina Faso, there is always next year…
You can find out more about the methodology Newsweek used to calculate the rankings here.
Graphical lowlights from the OFCOM report
The OFCOM Communications Market Report 2010 has been published today. For those who don't know about OFCOM it is the independent regulator and competition authority for the UK communications industries and this is arguably their most important and influential annual report.
At 379 pages it represents a significant volume of work and, not surprisingly, contains a huge amount of data and analysis accompanied by a plethora of graphs and tables. Unfortunately, much of these graphical devices add little value to the reader because their purpose hasn't been identified – a case of graphs for graph's sake.
I have a great deal of sympathy with the people who have compiled the report, you can just imagine the instructions coming down to them from managers along the lines of "put in plenty of nice fancy graphs, make them colourful".
We've all been there and what's more we've all had to succumb to such requests against our better judgement. This post is not about criticising those who have to produce graphics such as these, it should be seen as an arm around the shoulder for those who have to dance to the tune of clueless people in senior positions. You just would hope that the body responsible for standards and practices concerning communication issues would be able to set the bar a little bit higher with its report presentation.
Anyway, here are some of the graphical lowlights from this report – some of the busiest, confusing and unnecessary graphics from the 100's presented in this report, see what you make of them:
---
---
---
I don't dislike the above graphic – I just included it because it was very similar to the NYT item about "How Different Groups Spent Their Day"
---
---
---
---
---
---
---
---
---
---
---
---
For a more useful and helpful analysis and narrative about the key findings from this report can be found on the BBC, the Guardian and the Online Journalism Blog.
Making sense of streamgraphs
Over the past couple of months I've noticed a number of new examples of streamgraphs working their way around the web. It has prompted me to finally get around to visiting this subject because these graphs always seem to stir great debate, one which seems to perfectly encapsulate the ongoing challenges faced within the visualisation field.
From my own point of view I've so far sat very much on the fence, failing to form a specific opinion about where I stand on these graphs. Attracted by their aesthetics but concerned by the ease of their legibility I've decided its about time I investigated further.
The purpose of this post, therefore, is to share some of the examples and background information that I have unearthed about streamgraphs to help myself and hopefully others better understand the context of their design and usage.
A journey down the stream
First, lets take a look at some of the applications of streamgraphs. In some cases these are also known as theme rivers (now a trademark) and steam graphs (largely by those responsible for slight typo's) but for the purpose of consistency I'll stick with streamgraphs.
Perhaps the best known example of a streamgraph was published in the New York Times in February 2008 depicting the 'Ebb and Flow of Movies: Box Office Receipts Over Past 20 Years'.
It is an interactive visualisation which reveals the patterns of the amount of money films over a 21 year period make at the box office. The total takings are shown by the varying heights the shapes reach over time. The colour scheme represents the gross takings and the length of each shape reveals its longevity in the cinemas. Clicking on a particular film's shape will bring up a brief overview of that film with further links to other web pages such as review sites.
The print edition of this graph was presented with a vertical layout (perhaps this is where steamgraph becomes a valid label!?) to fit the natural layout of the newspaper as well as accommodate the lack of interactivity:
At the Malofiej 2009 awards the print- and online-editions of the NYT graphic shared the Peter Sullivan Best of Show Award – a real success for it's collaborating team comprising Lee Byron, Amanda Cox, Matthew Bloch and Shawn Carter (apologies if any other contributors are missing from this list).
This visualisation built on previous work by Lee Byron who, through his undergraduate studies, developed an innovative means of presenting the changing trends in users' last.fm listening history. This work showed a stacked graph of all the artists a user has listened to over time with the height representing the number of listens. As Byron describes, "the poster is a sort of virtual mirror, reflecting very personally significant events made visible by the changes in listening trends".
A paper entitled "Stacked Graphs – Geometry& Aesthetics", authored by Byron and Martin Wattenberg (2008) provides some fascinating explanatory detail behind this development, both in terms of the technical approaches as well as the design decisions made. I would urge anybody serious about improving their knowledge about visualisation to have a careful read of this paper. It provides great information about the challenges, decisions and contraints associated with crafting innovative visualisation approaches that strive to balance aesthetic appeal with the safeguarding of legibility.
Whilst the Byron et al examples has unquestionably been the most prominent demonstrations of a streamgraph, the approach to visualising multi-layered or stacked themes of data over time first emerged back in 2000 in the work of Susan Havre, Beth Hetzler and Lucy Nowell, detailed in the paper "ThemeRiver: In search of Trends, Patterns and Relationships".
This paper describes the development of an interactive system called ThemeRiver and includes a proof-of-pinciple demonstration using a text analysis engine to analyse the textual content of Fidel Castro's speeches, interviews and other articles over a 40 year period:
The ThemeRiver interface design is described as "simplifying the user's task of tracking individual themes through time by providing a continuous 'flow' from one time point to the next". Furthermore, "we believe this metaphor is familiar and easy to understand and that it requires little cognitive effort to interpret the visualization". According to the authors, plotting these thematic patterns over the period against the context of key historical milestones facilitated analysis of possible relationships between Castro's words and topics and the events that unfolded.
Back to more recent examples, another prominent developer of streamgraphs is Jeff Clark, a designer based in Toronto. The images below present (1) analysis of the most prevalent and interesting topics discussed by the top 100 Twitter users and (2) communicating the ebb and flow of the various characters throughout the books 'The Adventures of Tom Sawyer' by Mark Twain and (3) 'The Makers' by Cory Doctorow.
Jeff has also produced work for the Harvard Business Review presenting analysis of over half a million tweets referring to the iPad, identifying some of the key text, meme and sentiment trends contained within these tweets and demonstrating how visualisation tools working with Twitter data can provide marketing analysts with important consumer insights.
Continuing the theme, following the recent World Cup, Twitter produced a streamgraph to "illustrate the global nature of the games and how fans' interest and enthusiasm built over the course of the tournament on Twitter". Each country's flag and colours are used to represent the volume of tweets using each 'hashflag', with the size of the waves fluctuating with the frequency and consistency of tweets containing each country's hashflag. In the background, a busy line graph shows the frequency of Tweets per second across the entire service. I find a confusing visual aspect of this graph design is the inclining central axis about which the waves and flows are presented? This is an unexplained, different approach compared to the previous streamgraph examples.
Further examples come from one of my favourite interactive visualisation designers, Moritz Stefaner, who was influenced by Lee Byron's Last.fm work and developed an iterative range of visualisation solutions to present patterns in the models of tagging structures used on various websites, depicting trends to show how tags emerge and decay in use over time. You can read more about this work here and here.
Another solution to the challenge of presenting multi-layered data comes from Martin Wattenberg's Baby Name Wizard which is an interactive display of hundreds of thousands of instances of baby names through the years, allowing you to filter individual names and see their individual patterns of popularity.
Next, the relentless innovators at Stamen have recently announced a new visualisation project to explore the incredible the volume of data that is all the IP addresses on the internet. The start-off point for their work has been to come up with a basic metaphor for the project but rather than starting off with a traditional map approach they "wanted to get a sense for the overall flow of things" and so deployed streamgraphs, here to take a look at some specific data around the trends of visitors to British gambling websites.
Stamen have also previously worked on a project to display the changing strength of digital signals that overlay urban landscapes. The visualisation below displays the relative strength and density of networks encountered over time as a participant walks through a city. Each new network creates a new vertical bar and a new colour on the spectrum, fading and disappearing as the signal strength comes and goes. The height of each bar represents the combined strength of the wireless networks currently in range. Open networks are presented above the central line with a white background and closed/private networks are below the line with the grey background.
This next work, by Jure Leskovec, Lars Backstrom and Jon Kleinberg, attempts a similar multi-layered approach for a "Meme-tracking and the Dynamics of the News Cycle" project to present the rhythm and flow of news stories across millions of news and media sites and articles over time. The difference with the other streamgraphs approach here is the use of a fixed baseline axis, which I'll come on to later.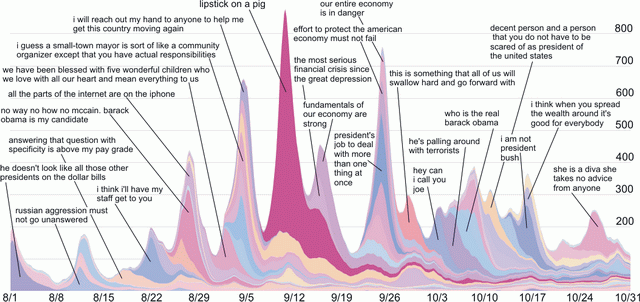 Reaction and debate
As I mentioned in the introduction, the use of the streamgraph approach has been met with particularly polarised reaction. The achievement of the Malofiej award for the NYT graphic team, a significant recognition from an esteemed panel, has stirred great debate particularly due to the increased profile and exposure this award created.
A journey around the many design and visualisation blogs reveals strong sentiments of appeal towards the graphic approach, certainly in terms of the aesthetics with terms like "pretty" and "attractive" especially commonplace. In their paper Byron and Wattenberg recognise that "the visual appearance of the graph drew people in or kept them looking at the graphic".
On the VisualJournalism website, Gert Neilsen admires the elegance of the NYT streamgraph as a technical solution to this complex data challenge but questions the focus of the underlying story behind the graphic, taking the wording of the project's title to imply an as-yet-undefined purpose. Moreover, he questions if it "would it be too rude to call this category 'Fun With Numbers'? or a more polite version: 'Art With an Infographic Function'".
Whilst the majority of commentators seemed enthused by the visual appeal of the streamgraph approach (a minority unearthing imaginative, x-rated visual comparisons!), the issue of legibility appears to be the central factor determining overall opinion.
This is acknowledged by Byron & Wattendberg and Havre et al, the latter recognising the fundamental challenge of the design: "ideally, a visual metaphor facilitates discovery by presenting data in an intuitive, easy way that lets users interpret the presentation and data without undue strain. Further, the visualization should not mislead the user".
Alberto Cairo, who taught online graphics and was a successful graphics director at El Mundo Online, takes a hardline view describing it as "one of the worst graphics the New York Times have published – ever!", explaining that our knowledge of the science of cognitive psychology shows the brain is unable to handle overly complex graphics of this nature without sufficient context. In the article referred to above, Gert Neilsen continues to ask if the graph is "too sexy for its own good?" raising a number of technical aspects that undermine the accuracy or readability of the data points and theme shapes.
There are some very interesting comments on a FlowingData post that followed the publishing of the NYT movie streamgraph. A number of people seemed capable of drawing decent insight from the graph such as which films were instant hits, failures or notable 'slow burners' as well as the macro-level seasonality of moviegoing in general. Several praised the data density achieved and the use of colour to distinguish the shape topics and to encode total takings. In the narrative that accompanies the Stamen 'IP address' visualisation, there is an acknowledgement that some people confuse the shapes displayed either side of the central zero-axis and take them to represent positive and negative values. Further comments describe the process of data reading as overly complex and confusing because of the nature of the sloped scales and lack of a coherent axis. This issue is acknowledged in both academic papers mentioned above.
Forming my view point
Visualisation is an optimisation problem. It is about communicating or conveying data in as effective a way as possible, squeezing the maximum value and purpose out of every design variable to achieve and maintain engagement through aesthetic appeal whilst enabling accurate insight to be drawn from the data displayed.
As I often mention in my posts I tend to rely on the simple formula message + data + display to inform my own process of crafting a visualisation and also to judge the success of other designs. It must have a clear message and motivation for being created, it needs to be accompanied by accurate, complete and relevant data, and then packaged and presented with effective design and appropriate display choices.
As I grow increasingly aware of the hidden challenges and significant constraints designers face when executing these projects I have now evolved this formula slightly to include the factor of context – a hugely influential factor on the other components in this formula. To be clear, context is not referring to the message or motivation behind the piece, but the restrictions that exist around the project that largely effect the options available to the designer, whether this is time, physical space, necessary format or practical necessity. Going back to optimisation, this is, crudely, about making something as good as it can be. Often as judges of people's output we find it easy to criticise without appreciating the limitations inherent in a project's context nor arriving at a better alternative suggestion.
This is the environment which I feel is particularly prevalent with the discussions that have engulfed the streamgraph. Yet, reading about the background of the developments presented above reveals a very careful, sensitive, delicate, thorough and deliberate journey through the optimisation challenge created by attempting to effectively display such large datasets. Moreover, the designers have clearly got a healthy respect for the dual demands of legibility and visual appeal and an acute awareness of the potential shortcomings that may still exist.
So what do I think? Up until researching this post I was tending towards the view that streamgraphs were very elegant visual constructions that didn't work particularly effectively as a means of communicating data.
My better informed view is that a streamgraph is a fantastic solution to displaying large data sets to a mass audience (as per the objective introduced in the Byron & Wattenberg paper). They are, however, at their best when existing as an interactive exploratory tool enabling users to take a journey along the flow of patterns, following their curiosities, forming and testing hypotheses as they learn about the data. Techniques such as sorting, filtering, brushing, selecting, panning/zooming, constructing/deconstructing and hiding/showing graphical apparatus supports thorough exploration of the data on both a macro and micro level.
From a technical execution perspective they are fantastic. The complexity of the calculations and layout algorithms, of the interactivity demands (such as the re-drawing required to respond to a change of resolution) and the juggling of design decisions around shape, ordering, labelling and colouring represent hugely impressive technical achievements.
I believe streamgraphs work significantly less well when they exist as a static or print version. Visualisations as technically sophisticated as this, that present data as vast and complex as they do, naturally require subtle trade-offs. Unfortunately, these trade-offs become exposed without interactivity. The main problem facing static streamgraphs lies in the difficulty of reading data points formed by uncommon shapes.
Studies conducted by noted author William Cleveland demonstrated the difficulties in accurately assessing the values formed by curved and sloped shapes like those in the streamgraph. The diagram below is taken from "Graphical Perception: Theory, Experimentation, and Application to the Development of Graphical Methods", Cleveland and McGill (1984) and compares variations of two curved lines on the left with a single line on the right representing the size of the difference between the points along the curved shapes. This experiment reveals the high potential for mis-reading the values of sloped shapes.
With an interactive version, a number of approaches are available to overcome this problem. Firstly, you could include the option for users to show/hide subtle vertical gridlines which would create a vertical path to help the reading of the shape heights. A second option would be to reocgnise the macro version of the streamgraph as an interface device and enable users to select (and therefore filter) a particular shape of interest which would then dynamically become the sole focus of the graphical landscape. An example of this type of transition is found in the NYT graphic which looked at "How Different Groups Spend Their Day".
This graph displays the percentage of people involved in each activity category across the 24 hours of a typical day. You'll see that the ambiguous shapes are similar formations to those found in the streamgraph, but the power of this graphic is that you can select a specific category and the graph transforms to show only data for that activity (as below). Furthermore, this dynamically altered display is presented against a baseline x-axis which enhances the potential for reading the data and understanding the shape of that activity more accurately.
This type of enhanced interactivity would significantly improve the potential for web-based streamgraphs to allow users to draw accurate insights about the categories and shapes within the overall flow.
Many observers have commented that a clearer display could be achieved by using a traditional stacked area chart as well as having a fixed baseline to aid value-reading. The iterations and experiments that went behind the work of Havre et al and Byron & Wattenberg reveals flaws with these approaches, causing a lack of smoothness and exaggerating the distortion of ongoing theme shapes. In a Q&A discussion, Amanda Cox (part of the NYT movie graph team) describes their decision around including a fixed x-axis:
Matthew [Bloch] actually made a version for people who care deeply about a fixed x-axis. We rejected it because it didn't do a good job of answering some of the questions that I thought were the most interesting (about peaks and ebbs of individual films). As it is, it's a lot of fun to look at films like Top Gun and Ghost. In a more traditional chart (like a stacked bar graph), it probably wouldn't be, unless you were willing to lose the shape of every other film. Different forms do better jobs at answering different types of questions. This form attempts to distort the shape of each film as little as possible; it works well for some types of questions; for others, not so much.
It is no surprise to see the term 'ebb and flow' used in several of the streamgraph titles because they genuinely do capture the dynamic and organic relationship within large datasets over time. The key to their success is to maintain this theme of dynamism through rich interactivity to unleash the full potential for user exploration. Furthermore, users need to better understand and appreciate the design optimisation these graphs achieve and, before criticising, recognise that sometimes there are no available, better solutions.
Visualisation in the news
The last 72 hours or has been fairly crazy in the land of Visualising Data, with some notable visualisation stories and discussions popping up in various news and media channels.
Firstly, on Sunday, the Wikileaks organisation picked up on my Tableau visualisations post and tweeted a URL to my site which led to visitor and page view counts going through the roof.
Then on Monday, Wired magazine's Danger Room section did a piece entitled "Open Source Tools Turn WikiLeaks Into Illustrated Afghan Meltdown" which also featured my tableau visualisations alongside those of NYU political science Ph.D. student Drew Conway.
Last night on UK television Information is Beautiful designer David McCandless appeared on the BBC programme Newsnight to discuss the subject of visualisation. UK viewers can watch the debate here (it starts after 26 minutes).
As many others have already commented, it was disappointing to witness this potentially interesting discussion descend into an unnecessarily semi-confrontational debate. The host Kirsty Wark facilitated the discussion as if she was dealing with less-than-forthcoming politicians and the designer Neville Brody was obsessed by some cultural/political observation about the last 25 years since Thatcher came into government and seemed intent on undermining David's work and observations, dismissively commenting that some of it was just "pretty pictures".
The core reason for this segment was supposed to be about profiling the emergence of visualisation and its importance in making the vast amounts of data we are faced with these days more accessible and engaging through innovative and effective information design methods. Unfortunately, it didn't quite work out this way, but at least it put the subject on a mainstream platform and stirred more debate which is always a good thing.
[Incidentally, David McCandless has kindly agreed to be the subject of a future Visualisation Insights article, so watch this space…]
Finally, Creative Review have followed up David's appearance last night with their own article reflecting on the discussion, presented in the context of one of their previous posts concerning Barnbrook's Little Book of Shocking Global Facts – they included a mention about my article about this subject 'Worst graph design ever?'.
They also took the opportunity to put down a marker for the September issue which will include an article by Nicholas Felton about visualisation design which should be a fascinating read.
Visualising Data is 6 months old!
I'm allowing a bit of self indulgence today as I celebrate 6 months of Visualising Data.
These first 6 months have seen a steady but satisfying growth in visitors, page views, subscribers and followers across the various ways of consuming my posts. Some of the key metrics used to track my site's growth are strangely neat and tidy. Fans of the 6 times table will take pleasure from the knowledge that I am about to receive my 12,000th visitor (5000+ in July alone) and that this will be my 72nd post (12 posts per month feels about right). Also, this morning I 'hit the jackpot' with my 888th RSS subscriber. I'm still experiencing a slow trickle of facebook fans and twitter followers but that will come in due course hopefully.
I'd like to sincerely thank everybody who has taken the time to read my content and I hope you've found most of it interesting and useful. I already receive a fair bit of feedback but if there is anything you wish to share or recommend for taking this blog forward do let me know.
Those of you accessing the site directly will now see a 'popular posts' widget in the sidebar from which you can navigate, funnily enough, to the most visited and read posts I've published so far. In terms of future ambitions around content, I was recently struck by a character named Jason who added his feedback to a post in Creative Review on which I'd also provided an early comment:
Become a whiney CR blog commenter in 3 easy steps:

Have a personal agenda which is more to do with bigging yourself up or a personal prejudice against the designer, throw in a couple of personal insults for good measure.
Link to your own blog or web site of your own utterly mediocre, commercial design, showing you neither have the commissions, intelligence or talent to comment.
Generally do absolutely nothing active or positive in the world of graphic design except sit on your fat arse and complain.
You are now an the typical CR commenter. Fact.
I'm not sure if this was targeted at me specifically, it might have been, but I have to say I was largely sympathetic to his overall sentiment "those who can, design, those who can't, comment". With this in mind I really want to look to increase the amount of personal examples of visualisation design I publish on the site, the opportunities for which haven't been appropriate to date for differing reasons. I've also loads of plans for wide range of post ideas and topics over the next 6 months and am particularly excited about some of the insights articles that will be coming up.
Finally, I'm going to shamelessly finish off by promoting the wide range of consultancy, collaboration and training services that I offer. I am delighted to also announce that I have established a working collaboration with Remode Studios and am looking forward to a fruitful relationship in the future.
Best of the visualisation web… July 2010
At the end of each month I pull together a collection of links to some of the most relevant, interesting and useful articles I've come across during the previous month. If you follow me on Twitter you will see many of these items tweeted as soon as I find them. Here's the latest collection from July 2010:
Infographics News | Steve Duenes, Archie Tse and The New York Times infographics | Link
Huffington Post | Visualizing Hunger and Its Impact: Why we need a hunger data consortium | Link
New York Times | Behind the scenes of a live World Cup | Link
City University London | City University London helps local authority to better understand and inform its citizens | Here and here
Perceptual Edge | Stephen Few's latest Visual Business Intelligence Newsletter "Coordinated highlighting in context: bringing multidimensional connections to light" | Link
Coroflot Portfolios | The fast, easy way to get your creative projects online and in front of the right people | Link
Brian Cray | Following up Jakob Nielsen's "How little do users read?", an interesting article about estimated reading time in web design | Link
The Scoop | How API's help the NYT newsroom | Link
DataVisualization.ch | First article in Benjamin's Datavisualization.ch Inside series, "How We Visualized 1 Billion Dollars" | Link
Guardian Datablog | David McCandless (Information is Beautiful) and other data experts accompany David Cameron in India | Link
School of Visual Arts | Overview of Data Visualisation by Shawn Allen (of Stamen Design) | Link
DataVis.ca | Milestones in the history of thematic cartography, statistical graphics and data visualisation | Link
Theusrus.de | Interesting visualisation challenge for communicating the comparison between expected and actual performance of the World Cup teams | Link
Eager Eyes | Multi-touch brushing for parallel coordinates | Link
Smashing Magazine | The Creative vs. the marketing team: Yin And yang, oil and water | Link
Harvard Business Review | The four phases of design thinking | Link
Drawar | The frustration of design and development | Link
Paul Graham | 'The top idea in your mind' describing the power of showers to aid the thinking process! | Link
Charman-Anderson | The value of data for readers and the newsroom | Link
Infosthetics | Top secret America: Visualizing the national security buildup in the US | Link
xocas.com | The making of NYT's Mariano Rivera's pitches | Link
Junk Charts | Yellow, green and polka dots – graphical analysis of the Tour de France | Link
Infosthetics | YouTube adds view tracking data visualization dashboard | Link
Creative Review | Thinking inside the box | Link
Creative Bits | The small world of Slinkachu | Link
New York Times | For today's graduates, just one word: statistics | Link
Cincinnati.com | Data shaping store shelves – companies use new high-tech methods | Link
Wired | Japanese artist maps 1945-1998's nuclear explosions | Link
Information Management | Open data hard to understand, says data.gov.uk chief | Link
Campus Technology | Weill Cornell 3D Cave Helps Researchers Visualize Data | Link
Wired | How Inception's astonishing visuals came to life | Link
NAME | First in a series by Core77 about designers who have recently struck out on their own – first up, Stewart Smith, artist/programmer/designer | Link
Seth's Blog | Information about information | Link
Visualization Blog | Data visualization talks online | Link
Infographics News | Murdoch's strategy for making people pay for The Times online: Infographics | Link
Online Journalism Blog | An introduction to data scraping with Scraperwiki | Link
Design Mind | Presentation about sensemaking – the manner in which we make meaning during the design process | Link
Site Sketch 101 | The 35 most beautiful hand-drawn websites | Link
Creative Bits | Logo design narrative and brief form for clients | Link
Eager Eyes | Workshop: The Role of Theory in Information Visualization | Link
Core 77 | Christoph Gielens amazing overhead photos of our species and Joe Rogan on why were even here | Link
O'Reilly Radar | In defense of games in the workplace | Link
Smashing Magazine | Designing style guidelines for brands and websites | Link